Complete The Look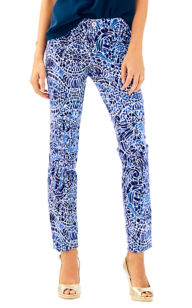 Rated

5

out of

5
by
AllisonE
from
Don't shy away from the "skinny pant" description
This was my first Lilly pant purchase, so I had no idea what to expect. As a classic pear shape with a small waist and large hips, thighs, and legs, I normally loathe skinny pants and do much better with a straight leg pant. But, these prints were so cute I couldn't resist taking the leap. Being super paranoid, I sized up and originally purchased in a size 6 (I normally wear a 2P or 4P in pants, depending on the brand). When they arrived, they were much too big; they sat so low on my hips that the crotch hung down way too low and were not flattering at all. I exchanged for my normal size 4, and could not be more happy. The fabric of the pants has some stretch in it and does not cling to your curves as tightly as what I typically experience with "skinny pants." So, go ahead and purchase in your normal size and embrace your curves! At 5'3", these fit me more like normal length pants than ankle pants, but I expected that from the start and am still very satisfied with my purchase. I bought in the Gold Metallic Quill Out pattern, which is colorful (but not neon) and cute. The colors are very versatile, pairing great with tops/blouses in gray, navy, purple, and even pink. Also, I found the return process to be super simple, which was a relief. I opted for store credit on the return, which I will likely use to buy a second pair of this same style pant!
Date published: 2018-01-19
Rated

5

out of

5
by
shellluvslilly
from
Love These Pants
Kelly Pants are truly one of my top 2 fav bottoms from Lilly (tied with luxletic of course). I own several pair and will continue to keep buying them as long as Lilly makes them!!! The Drop Me A Lime print was my newest addition. This pair fits me much better than any of the other pairs, it's something with the fabric...it's just slightly stiffer. The only complaint I have about Kelly pants, in general, is they do stretch by the end of the day. It's not enough for me to size down, but they don't look AS good as when I first put them on (they still look awesome any time though!). Keep making them, please!
Date published: 2018-01-11
Rated

5

out of

5
by
Yabba2
from
Super cute pants
I love the prints in the pants and they fit well. These have become a staple in my closet!
Date published: 2018-01-10
Rated

5

out of

5
by
PinkGirl40
from
Super cute pants
This is my first pair of Kelly Skinny Ankle pants. I bought them in Bright Navy Taverna Tile All Over and think they will be a classic blue and white pair of pants for warm weather. I wear a 10 in Callahan shorts and bought these in a 10 as well. I will probably have them taken up an inch to look a little more cropped. Love them.
Date published: 2018-01-07
Rated

5

out of

5
by
Rella
from
Love the Kelly skinny ankle pant
These pants are the greatest. One can never own enough of these pants. Perfect year round. I'd love a plain royal purple pair please.
Date published: 2018-01-05
Rated

5

out of

5
by
beachlifexx
from
I love the fit of these pants!
I normally am a 4 and I would say that they are a little more low rise than I was expecting, but they fit great. I did not realize the color was going to be so bright, but I actually really like them and they look good on, so no complaints! I want to buy a few more pairs, too!
Date published: 2018-01-04
Rated

5

out of

5
by
BrittneyMills
from
Bold gorgeous colors
Seriously love the print. Sadly the fit was too small and has to exchange them at my local Lilly store. They didn't have this pattern in stock so I settled for a similar print.
Date published: 2017-12-17
Rated

1

out of

5
by
JLilly
from
Neon! Bright, bright, neon.
I ordered True Blue Seas the Day, and when the pants arrived, I thought Lp sent the wrong item. Neon doesn't even begin to describe them! The color looks awesome online (on three different devices), but in reality, they are bold, bright, and, yes...neon. They went back into the box for immediate return.
Date published: 2017-12-06