Complete The Look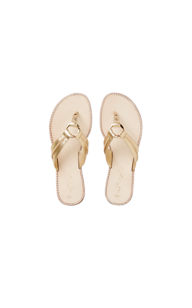 Rated

5

out of

5
 by
Bimbels
Summer Staple
I wear my gold McKim's every day in the summer. Because of that, I'm probably on my 4th or 5th pair. I have several colors but primarily wear the gold - they go with everything. Shorts, dresses, white jeans, beach coverups. For those who complain about the comfort - it is true the are not padded in any way - only a leather footbed and thin rubber sole. But I don't find them uncomfortable at all - and they are WAY more comfortable than my Jack Rogers, which can only be worn for a couple of hours at a time. Like any flip flop, they don't have support. But I still wear them every single day.
April 8, 2016
Rated

1

out of

5
 by
p0719
Mc Kim Sandals
I have been a Lill Pulitzer fan since the 70's! I have purchased many of the great sundresses, in fact now,a quite a few for my granddaughters. Therefore, I can only say that I am EXTREMELY unhappy with the Mc Kim "flip flops." YOo feel as though you are walking on boards! Absolutely no give to the sandal at all!I I wiill add that I also bought the wedge flip flop to wear to a wedding and they worked out very well. Be cautious with the flip flops
March 19, 2016
Rated

5

out of

5
 by
makeminepink
BETTER THAN BAREFOOT
I love these sandals!!!! I have lost count on how many pairs I have .Please keep making them I need a new pair of aqua .I wear these everyday at home. and every warm day out.
January 10, 2016
Rated

5

out of

5
 by
Fluffway
My favorite sandals
The McKim are my fav sandals but please please please start making them in colors again!
October 31, 2015
Rated

3

out of

5
 by
Skipper
Pretty but uncomfortable
I LOVE the look of these shoes! So beautiful! But unfortunately they are super uncomfortable. The sole is so hard it's like wearing wooden shoes and it is more comfortable to be bare footed than wear this shoe! Even a tiny bit of cushion would have helped! It is rather disappointing.
September 29, 2015
Rated

5

out of

5
 by
JerseyShoreGirl
The best!
I purchased these on a whim during a winter sale and they are the BEST! The first wear they were a bit uncomfortable as it takes a little while to get used to no cushion, and how flat they are. But after just ONE WEAR they were completely broken in & comfortable! I wear these almost daily in the Spring/Summer as they match basically every outfit I own. They can dress up a casual outfit, or look great paired with a Lilly dress. I wish I purchased them sooner so I could get them in other colors, but they only have gold online! Lilly please bring back more colors!!
July 10, 2015
Rated

5

out of

5
 by
ILoveLillyP
Great summer staple!
I love my McKims! I have them in several colors, but gold is my favorite. They look great with any Lilly outfit, from shorts to a dress. Super versatile, so the perfect shoe to pack when you're headed to the beach!
May 29, 2015
Rated

4

out of

5
 by
Caribe910
Pretty but uncomfortable
Not a smidgen of cushioning to reduce impact. But they're prety
May 11, 2015