Complete The Look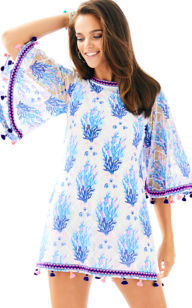 Rated

5

out of

5
by
AnnieC
from
Obsessed with the lace and the silhouette
Amazingly beautiful innovation in rompers. The lace and tassels are so beautiful, the cool sleeves make it more dressy, and the length is just right.
Date published: 2018-04-13
Rated

4

out of

5
by
MrsDtav
from
Fun, flirty & fashionable
This romper is the "must have" Lilly piece of the Spring collection. I ordered it online due to "FOMO" after seeing so many Lilly lovers wearing it on social media. I found it to run true to size. It is quite short, so it will limit what I consider the "wear-ability" factor. I only gave it 4 hearts instead of 5 because I am not convinced the tassels & lace are of highest quality. The delicate nature of this romper may limit how much wear it gets. Overall, glad I pulled the trigger & purchased.
Date published: 2018-04-11
Rated

4

out of

5
by
LVan
from
Beautiful colors and as always made of high quality and unique design.
I returned the romper nit realizing it was a romper when I bought it.. with the zipper in the back it would be too much of a pain to have to remove it every time i went to the bathroom. Plus it is a little shot.
Date published: 2018-04-08
Rated

5

out of

5
by
SLJW
from
Simply Glam
This romper is so unique, it looks like a gorgeous dress with transparent sleeves. My husband said he loves it so much on my body that I should wear it to our anniversary dinner...I never imagined wearing a romper to a five-star restaurant! You will not regret adding this piece to your collection!
Date published: 2018-04-06
Rated

5

out of

5
by
Ocean80
from
THE MUST HAVE ROMPER OF THE SEASON!!!
This is the perfect romper! It is very eye catching and unique and fits perfect! With the sleeves being somewhat long I was worried it would be too hot for Florida heat but after trying it on I realized how comfortable it is! The top layer is a lace so it definitely is not too hot to wear even on the very hot Florida days! This is a very unique piece that will be very hard to find again. A must have if you are a fan of rompers or for your first romper!
Date published: 2018-04-03
Rated

5

out of

5
by
SunshineAndPearls
from
Eye-Catching Romper
It was love at first site... love the it's a dress, no it's shorts AND the sleeves! I wasn't so sure about it since the inseam is only 3 inches, but I ordered up a size (and because I'm 5'4", the sizing worked and it might be a tad bit on the "runs small" sizing). It's definitely an eye-catcher, so if you want to blend in with the crowd, this is not the Lilly piece to do that with (but is there a Lilly piece that let's you blend in?). I can't wait to wear this for graduation parties and more!
Date published: 2018-04-01
Rated

5

out of

5
by
mgrimes79
from
Absolute perfection!
I love rompers! I especially love Lilly rompers and this one does not disappoint! I tried it on because one the store employees were wearing it. I love that it looks like a dress and the print is so fun! I am pear shaped and have a tough time finding rompers that fit my top and bottom. The shorts are a generous cut and not too tight around my legs. I was really in between the 8 & 10 but sized up for comfort. I have received so many compliments on this. Since I am 5'3" it is a good bit longer on me than on the model in the pic. The dress overlay hits me about 3" above my knees. It is perfect for so many occasions!
Date published: 2018-03-26