Our Mission
To inspire confidence and optimism, inviting everyone to shine bright and stand out.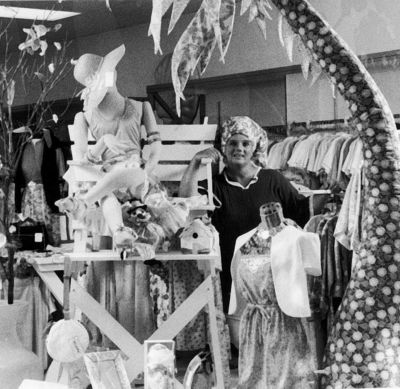 Philanthropy at Lilly
Lilly once said, "If you haven't any charity in your heart, then you have the worst kind of heart trouble." We proudly carry on her legacy and the brand's tradition of giving through local and nationwide philanthropic efforts.
Prints with Purpose
Several times a year, we release limited edition collections anchored by a hand-painted print celebrating a partner organization. Featured on new and best-selling styles, these Prints with Purpose are at the heart of campaigns that shine a spotlight on the important work of our charitable partners. Since launching in 2017, the Print with Purpose program has donated over $500,000 to organizations including Girls, Inc., Boys & Girls Clubs of America, and the Breast Cancer Research Foundation.
Discover Our Prints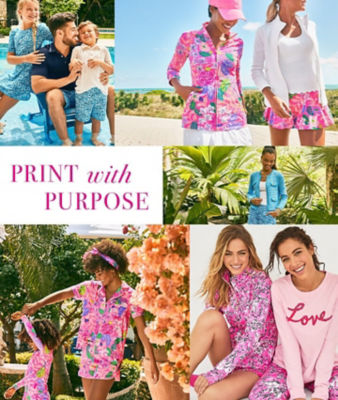 Community Giving Events
We regularly partner with organizations in the communities surrounding our stores and invite you to shop for a cause. Annually, we share sunshine with hundreds of local non-profits via these in-store events; in recent years, we've donated to organizations including Boys & Girls Clubs of America, Girls on the Run, and The First Tee.
Want to recommend an organization for a future event? Please reach out to your local store—we love to make new connections!
See Our Upcoming Giving Events
COMMUNITY GIVING IN 2022

raised across all store locations,
supporting
290 organizations

was our largest month of
giving, with
$87,729 raised

led our stores in giving, with
$60,403
raised for
29 charities
Employee Engagement
We believe we can build a brighter future together, and offer participation in service projects, fundraising, food and clothing donation drives, and other opportunities for our employees with organizations like Cradles to Crayons and Children's Hospital of Philadelphia.
Our Educational Access Initiative
Since July 2021, we have supported Boys & Girls Clubs of America with $150,000 in grants, plus Prints with Purpose, special events, and employee engagement opportunities. This commitment builds upon long-lasting regional relationships and will empower BGCA to further its Our Journey to Racial Equity program, which works to advance racial equity, as part of the organization's commitment to Diversity, Equity and Inclusion. In addition, the grants will support the Clubs Career Bound & Creative Arts programming near our offices in the Greater Philadelphia area, and near our brand hometown of Palm Beach in Southeast Florida. We are honored to support BGCA in its mission to empower youth to realize their full potential and to be the sunshine for all youth who walk through their doors.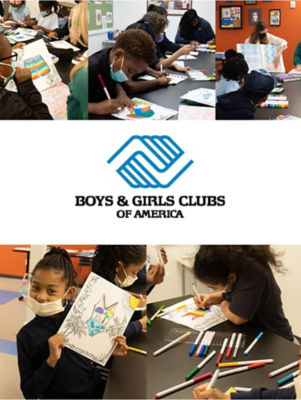 Sustainability at Lilly
Filled with colorful flora and fauna, Lilly prints have long celebrated the world around us. But it's not enough to be inspired by our planet and its inhabitants—it's our responsibility to care for them, too. That's why we're making a commitment to sustainability with the support of our employees, our supply chain, and our customers. This commitment is made with one simple aspiration in mind: a brighter future for our community and our planet.
While we're still in the early phases of our sustainability journey, we've identified four tenets to guide us moving forward:
Selecting better materials for our products
Reducing resources used to produce our products and run our business
Eliminating waste generated from production processes and our operations
Partnering with ethical suppliers to ensure the wellbeing of workers around the world
Learn more about our current initiatives:
Responsible Materials
We work continuously to expand our selection of styles made with less environmentally impactful materials and manufacturing methods, including:
- Utilizing low impact washing processes which reduce waste, water use, and energy use.
- Incorporating recycled and partially recycled materials where possible.
- Using preferred fibers that are grown or produced using fewer resources like water, energy, and chemicals.
Shop Now
FABSCRAP Textile Recycling
By partnering with FABSCRAP, we are finding new life for our excess or unusable textiles through reuse and recycling. Some textiles are shredded to create products like insulation, carpet padding, furniture lining, and moving blankets, while others are resold for use by students, artists, crafters, teachers, and designers.
Packaging Material Recycling
We partner with R.J. Evercrest Polymers, Inc. to recycle common packaging materials from our warehouse, including polybags, plastic wrap, and bubble wrap. We recycle a bale of packaging (around 1,100 pounds!) every two months; this material is repurposed in manufacturing a variety of products.
Responsible Sourcing
We are committed to partnering with suppliers that share our values, treat their workers with respect and fairness, and, like us, strive to continuously improve. Our Supplier Code of Conduct is the foundation of our responsible sourcing program and outlines the minimum compliance standards we require our suppliers to meet.